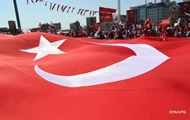 Власти турецкой столицы запретили все публичные собрания и демонстрации в Анкаре до конца ноября, сообщает Daily Sabah
Собрания запретили в соответствии с решением правительства о продлении чрезвычайного положения "с целью обеспечения безопасности народа и общественного порядка".
Кроме того, в офисе губернатора Анкары заявили, что имеется информация о подготовке террористическими организациями атак в городе и провинции во время массовых собраний и митингов.
Ранее сообщалось, что в Стамбуле возле полицейского участка прогремел взрыв , ранения получили не менее десяти человек.
© Source: http://korrespondent.net/world/3758834-v-ankare-zapretyly-luibye-massovye-sobranyia-smy
All rights are reserved and belongs to a source media.