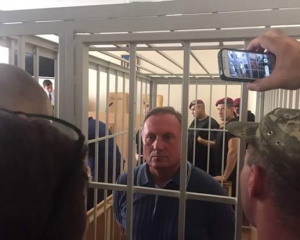 Дело Ефремова передадут в суд в течении двух месяцев.
Об этом сообщил во время заседания Апелляционного суда Киева прокурор ГПУ Кожухивский, сообщает УНИАН .
ЧИТАЙТЕ ТАКЖЕ: Ефремов пожаловался в Европейский суд по правам человека
"Мы рассчитываем допросить еще нескольких свидетелей, и в течение двух месяцев передать дело в суд", – сказал Кожухивский.
Напомним, суд отказал Ефремову в апелляции и оставил его под стражей до 24 ноября.
Ефремова задержали 30 июля в аэропорту "Борисполь". 1 августа сообщили о подозрении в посягательстве на территориальную целостность и неприкосновенность Украины.
© Source: http://gazeta.ua/ru/articles/life/_delo-efremova-nastoyaschij-sud-ne-za-gorami/729665
All rights are reserved and belongs to a source media.