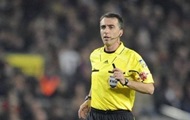 Напомним, что в среду киевское Динамо ожидает матч третьего тура группового этапа Лиги чемпионов. Подопечным Сергея Реброва будет противостоять лиссабонская Бенфика, а сам матч пройдет на главной арене страны – НСК Олимпийский.
Как сообщает официальный сайт УЕФА, на этот поединок  уже назначена бригада арбитров. Обслужить матч доверено испанцам. Главным рефери поединка будет Давид Фернандес Борбалан, помогать ему будут Роберто Алонсо и Рауль Кабанеро. Четвертый арбитр – Диего Барберо Севилья.
© Source: http://korrespondent.net/sport/football/3758502-match-dynamo-v-lch-obsluzhyt-yspanskaia-bryhada-arbytrov
All rights are reserved and belongs to a source media.