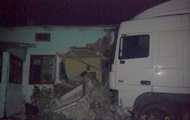 На трассе Киев-Чоп в ночь на среду, 19 октября, фура съехала с дороги и врезалась в жилой дом.
"ДТП на трассе Киев-Чоп, с. Дидилов, – фура съехала с дороги и въехала в дом", – говорится в сообщении.
В комментариях пользователи пишут, что по предварительной информации, пострадавших нет.
© Source: http://korrespondent.net/ukraine/3759332-na-trasse-kyev-chop-fura-vletela-v-dom
All rights are reserved and belongs to a source media.