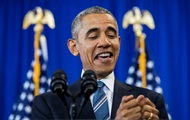 В ответ на заявления Трампа о фальсификации выборов ,Барак Обама посоветовал ему прекратить ныть и попытаться получить голоса избирателей. Об этом сообщает Reuters
На фоне падения рейтинга Трамп активизировал свои заявления о фальсификации выборов, заявив, что пресса создала манипулятивной систему и отравляет сознание избирателей.
В ходе пресс-конференции с премьер-министром Италии Маттео Ренци Обаму спросили о возможности фальсификации выборов.
Обама подчеркнул, что нет никаких доказательств масштабных нарушений на выборах в США и они находятся под контролем местных чиновников, которыми могут быть и республиканцы. Он сказал, что нет никакой "серьезного человека", которая могла бы предложить сфальсифицировать американские выборы.
"И поэтому я советую господину Трампу прекратить ныть и попытаться донести свои идеи, чтобы получить голоса", – добавил Обама.
© Source: http://korrespondent.net/world/3759329-obama-posovetoval-trampu-ne-nyt
All rights are reserved and belongs to a source media.