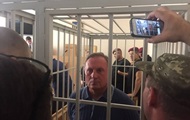 Апеляційний суд Києва не задовольнив скаргу захисту колишнього народного депутата Олександра Єфремова, залишивши без змін рішення райсуду утримувати його під вартою до 24 листопада 2016 року, передає Інтерфакс-Україна.
Нагадаємо, колишній глава фракції Партії регіонів підозрюється в заволодінні майном, скоєнні умисних дій з метою зміни меж України, що призвело до загибелі людей, а також у сприянні до створення ЛНР.
Єфремова затримали вранці 30 липня на борту літака за маршрутом Київ-Відень в Борисполі.
Нещодавно генпрокурор Юрій Луценко заявив, що Єфремов "відкрив двері війні".
© Source: http://ua.korrespondent.net/ukraine/3759270-sud-vidkhylyv-apeliatsiui-yefremova
All rights are reserved and belongs to a source media.