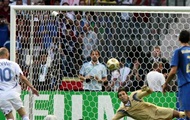 21-летний Энцо Зидан сейчас выступает за вторую команду Сливочных Реал Мадрид Кастилья. В последнем матче Сегунды Б против Сокуэльямоса (3:0) на 36 минуте мадридцы заработали пенальти, исполнять который взялся сын главного тренера первой команды.
Энцо показал хладнокровие и исполнил пенальти в стиле Паненки, парашютиком по центру ворот, прямо под перекладину.
Этот гол оказался невероятно похож на последний гол в карьере отца Энцо. Зинедин Зидан забил в финале чемпионата мира 2006 года в ворота Джанлуиджи Буффона пенальти в таком же стиле, только в его случае мяч еще и ударился в перекладину.
© Source: http://korrespondent.net/sport/football/3758545-syn-zydana-povtoryl-udar-ottsa-v-fynale-chm-2006
All rights are reserved and belongs to a source media.