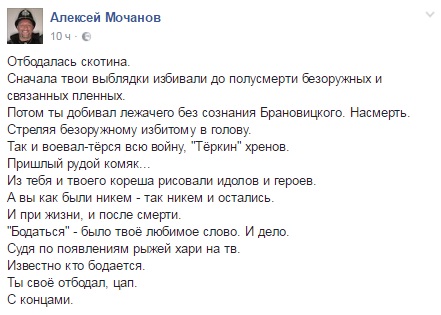 Известный автогонщик, волонтер Алексей Мочанов припомнил в соцсети видео с рассказом украинского военнослужащего, как "Моторола" издевался над пленными бойцами АТО.
На видео Юрий Сова вспоминает, как главарь боевиков ДНР в 2015 году убил одного из пленных защитников Донецкого аэропорта Игоря Брановицкого. Сова припоминает, как "Моторола" расстрелял "киборга" на его глазах, хотя за Брановицким боевики вызвали "скорую".
Стоит отметить, что боевик "Моторола" ранее признавался в расстрелах пленных бойцов АТО.
Как сообщал "Апостроф", на убийство "Моторолы" громко отреагировал главарь ДНР Александр Захарченко , заявив о прекращении перемирия.
© Source: http://apostrophe.ua/news/74290
All rights are reserved and belongs to a source media.