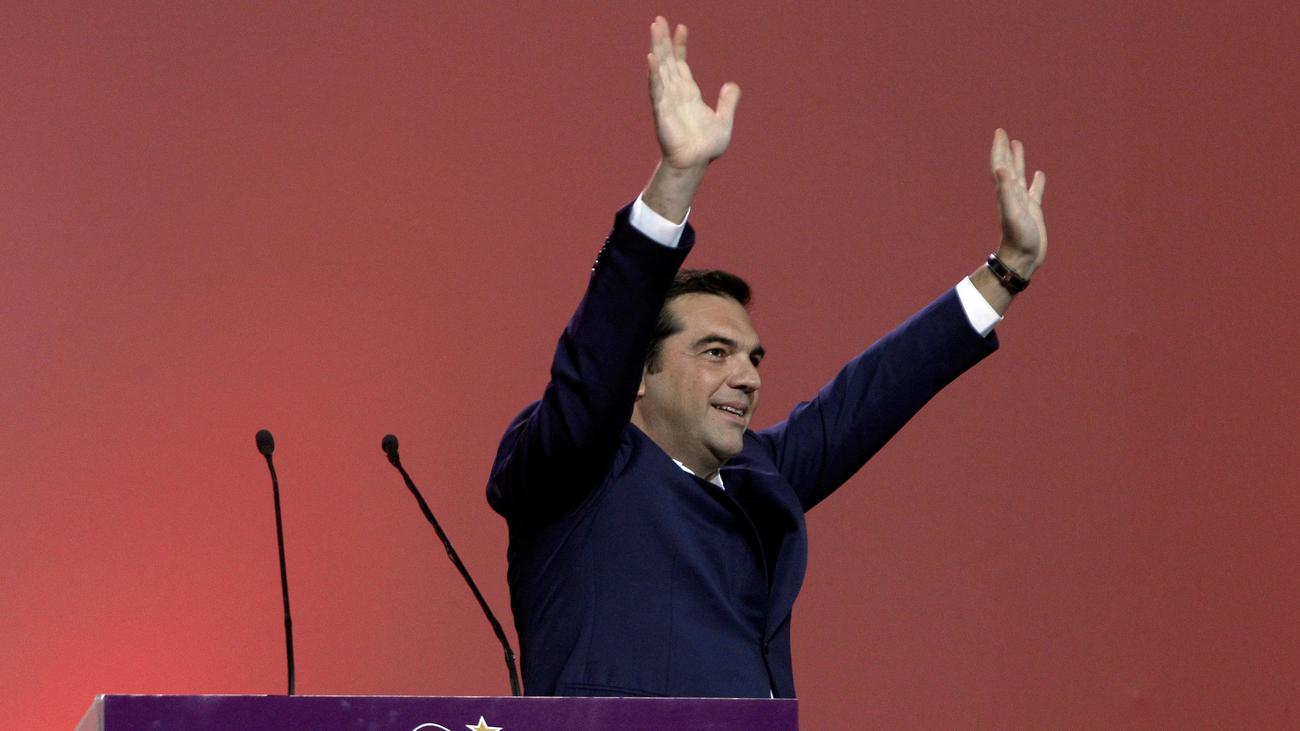 Die linke griechische Regierungspartei Syriza hat mit deutlicher Mehrheit Regierungschef Alexis Tsipras
an der Parteispitze bestätigt. Er habe zum Abschluss des Parteitags
92,39 Prozent der Stimmen der Delegierten erhalten, berichtete der griechische Nachrichtensender Skai unter Berufung auf
die Wahlkommission. Tsipras war Alleinkandidat. Für ihn stimmten 2.548 Delegierte, es gab 176 Enthaltungen und 34 ungültige Stimmen.
Während des viertägigen Parteitages versprach Tsipras, sein Land bis 2021 aus der Krise zu führen. "Wir werden es schaffen", sagte er. Tsipras
erklärte, warum er vergangenes Jahr nach einer turbulenten Verhandlung
doch noch harten Sparmaßnahmen zugestimmt habe: Konservative Kreise in
Europa bestünden auf die harte Sparpolitik. Sollte das Land nicht
einlenken, könnte es aus der Eurozone geworfen werden.
Anführer dieser Bewegung sei Bundesfinanzminister Wolfgang Schäuble, sagte Tsipras
weiter. Das harte Sparprogramm ist nach seinen Worten "kein linker und
kein progressiver Plan. Es war einfach der Plan des Finanzministers
Deutschlands, der Plan Wolfgang Schäubles", sagte er. Wegen des Sparprogramms hatte Tsipras zwischenzeitlich nicht nur bei den griechischen Bürgern, sondern auch in seiner eigenen Partei an Beliebtheit eingebüßt.
Seine Regierung werde alle von den Gläubigern geforderten Reformen in die Tat umsetzen. Dafür erwartet Tsipras Maßnahmen zur Reduzierung des griechischen Schuldenbergs. Dies sei auch Teil der Vereinbarung mit den Gläubigern, sagte er.
Griechische Analysten rechneten mit einer umfangreichen Regierungsumbildung nach dem klaren Sieg Tsipras'. Minister, die ungern Reformen in die Tat umsetzen, sollen demnach gehen.
© Source: http://www.zeit.de/politik/ausland/2016-10/griechenland-syriza-alexis-tsipras-parteichef-wiedergewaehlt
All rights are reserved and belongs to a source media.