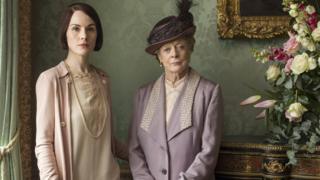 Film executive Ken Loach has criticised a stream stand of TV duration dramas for indulging in "fake nostalgia".
In response to a doubt about Downton Abbey in a Radio Times interview, Loach said: "This flushed prophesy of a past, it's a choice broadcasters make.
"'Don't worry your heads with what's going on now, only delight in feign nostalgia. It's bad history, bad drama. It puts your mind to sleep."
Period dramas such as Victoria and Poldark have been a ratings success.
Other strike array embody ITV's Downton Abbey and Mr Selfridge and a BBC's Call a Midwife and War and Peace.
Loach pronounced sentimental dramas were "the conflicting of what a good broadcaster should do, that is kindle and invigorate… TV play is like a design on a Quality Street tin, though with reduction peculiarity and zero of a street".
The filmmaker also pronounced broadcasters should "diversify" so regions could emanate their possess dramas, adding: "Now a play is constructed by outward prolongation companies and horribly micro-managed.
"The directors we know in radio contend it's a nightmare. That's loyal for all a broadcasters, though a BBC is a decaying place for a director."
The BBC has been approached for comment.
Loach's I, Daniel Blake, that was co-produced with BBC Films, won a Palme d'Or during Cannes Film Festival progressing this year.
His other films embody Kes, Land and Freedom, My Name is Joe and Sweet Sixteen.
Loach's breakthrough came with his 1966 BBC landmark play Cathy Come Home , that tackled a emanate of homelessness.
Follow us on Twitter @BBCNewsEnts , on Instagram , or if we have a story idea email entertainment.news@bbc.co.uk .
© Source: http://headlinenewstoday.net/ken-loach-bemoans-tvs-fake-nostalgia-of-period-dramas.html
All rights are reserved and belongs to a source media.