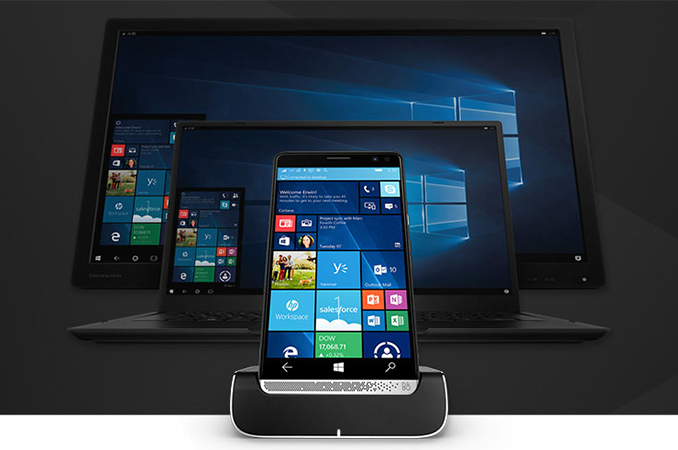 Microsoft has begun to sell HP's Elite x3 smartphone at its Windows Store. The handset is one of the most powerful Windows 10 Mobile-based devices and the one of a few initially aimed at the business professionals on a company contract. The fact that Microsoft has started to sell the HP Elite x3 indicates that the smartphone is now available to general consumers as well.
Microsoft sells unlocked HP's Elite x3 at it MSRP of $799 , which is much higher than the price of typical Windows smartphones. The handset comes with its Continuum desk dock that features an Ethernet adapter, as well as DisplayPort USB connectors, and can work with desktop displays as well as keyboards. Meanwhile, neither Microsoft nor HP currently offer the Elite x3 Lap Dock device, which can transform the Elite x3 smartphone into a laptop.
The HP Elite x3 smartphone is powered by Qualcomm's Snapdragon 820 SoC and is currently the only Microsoft's Windows 10 Mobile-based smartphone to use the chip. The device is equipped a 5.96" AMOLED display and comes with 64 MB of eMMC 5.1 NAND flash storage, 4 GB of LPDDR4 RAM as well as all the necessary connectivity features, including 4G/LTE, 802.11ac Wi-Fi, Bluetooth 4.0 and a USB Type-C connector. Developed specifically for enterprise and business users, who value security, the HP Elite x3 is FIPS 140-2 certified and features Secure Boot (with iris and fingerprint scanners), full disk encryption with a 256-bit key, fTPM 2.0, and so on. The smartphone from HP also takes advantage of Microsoft's Continuum technology, which allows you to run your phone as a desktop PC.
At present, the HP Elite x3 has no rivals in the price range because it is the only Windows 10 smartphone that sells for $799. In the Continuum space, the HP Elite x3 competes against Acer's Liquid Jade Primo as well as Microsoft's own Lumia 950 and Lumia 950 XL, which are available for $449, $399 and $499 respectively.
© Source: http://www.anandtech.com/show/10743/microsoft-adds-hp-elite-x3-smartphone-to-windows-store
All rights are reserved and belongs to a source media.