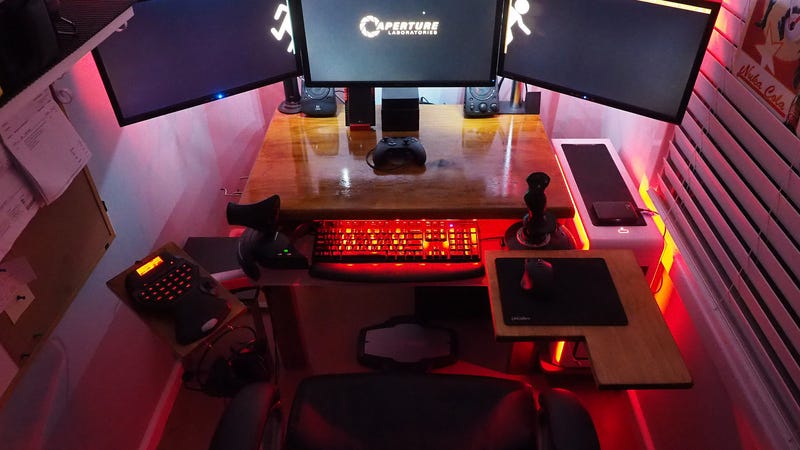 We've featured workspaces in small spaces before, but reader Edrei's space is impressively small, but simultaneously has a ton of great gear in it. Three monitors, an adjustable mousepad and writing surface, and even some bias and keyboard lighting—it's all in there, somehow. Here are some more photos.
The photo above is a shot of the whole workspace, which we're still amazed he managed to get three displays into. He notes:
Much love for the customizable keypad on the left and the space he made for the flight stick on the right there, but it's that adjustable desk that's really impressive. Here's a shot of him using it as a writing desk to take notes:
And here he is using it as a perfect spot for his mousepad when he doesn't need to write on it, swung out of the way and flipped so it's easier to rest an arm on:
It's a pretty nice custom setup, and while the desk arm is the star of the show, he even made room for some keyboard lighting, just to keep things pretty:
It's a great look, and a good way to get all of your peripherals and everything into a small space—this looks like it could be a closet, or another nook hidden away in a much larger room. If you like the look as much as we do, head over to his Flickr page (linked below) and sing your praises.
If you have a workspace of your own to show off, share them with us by adding it to our Lifehacker Workspace Show and Tell Flickr pool. Make sure any photos you include are at least 1280×720. Keeping them to 16:9 helps, too! Include a little text about the stuff you used, how you came up with the design, and any other relevant details. If your clever organization and good design sense catches our eye, you might be the next featured workspace!
Completed Tight Space Gaming System With Table Mods (Night 1) | Flickr
© Source: http://feeds.gawker.com/~r/lifehacker/full/~3/hBq1AVp85-Y/the-tight-space-triple-monitor-workspace-1787799866
All rights are reserved and belongs to a source media.