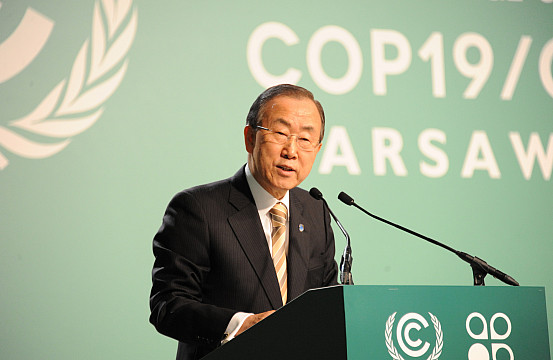 Ecstatic Koreans tried to hand him bouquets of flowers and shake his hands as he made his way through a human tunnel that literally collapsed around him as he tried to exit the airport. The crowd looked so tight at times that the 72-year-old may have been unable to lift an arm to offer those greatly desired handshakes.
Many people were there to cheer Ban on to the South Korean presidency — an office he has yet to officially say he's seeking. But he again hinted at the prospect in an address to his fans after arriving in the terminal.
Ban said a decision would be coming soon about how he plans to serve his country. If the turnout at the airport is any indication of support, Ban won't be lacking advocates if he runs.
One of Ban's fan clubs, Bansamo, which literally means "a group that loves Ban," was there to cheer on their returning champion.
"We came here because Ban did something great for the world and now is coming back. So we came here to welcome him," said Kang Seok-jun, the head of Bansamo.
Kang said they founded the group in 2010 solely to support the UN secretary general, and Bansamo is "pure" without political or religious bias.
Ban has long enjoyed support at home. He rose from poverty as a young man to become leader of the UN. South Korea's own improbable growth runs parallel to his success.
Aidan Foster-Carter, an Honorary Senior Research Fellow in Sociology and Modern Korea at Leeds University, said Ban's humble roots may help a bid for the Blue House.