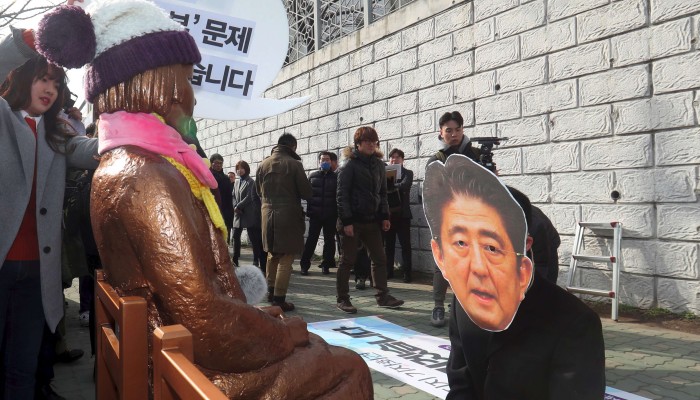 W ith its recall of two diplomats this week, Japan appears to have upped the ante in its long-running dispute with Korea over its use of wartime sex slaves, reigniting enmities over an issue that had until recently seemed tantalisingly close to a conclusion.
And standing in the way of what might have been a watershed moment in diplomatic relations between the two countries? The statue of a teenage girl.
Rewind just a year and it appeared Seoul and Tokyo had reached a measure of closure over wartime Japan's use of what were euphemistically known as "comfort women" – the reportedly hundreds of thousands of women, mainly from Korea, recruited to serve in its military-run brothels during the second world war.
But any lingering such notions were dispelled when Nagamine Yasumasa, the ambassador to South Korea, and Morimoto Yasuhiro, the consul general in Busan, returned to Japan on January 9.
That move, prompted by Tokyo's displeasure over statues symbolising "comfort women" in front of the Japanese embassy in Seoul and consulate in Busan, was the first high-level diplomatic recall by Japan since August 2012, when South Korea's then president, Lee Myung-bak, visited the disputed islets of Dokdo (known as Takeshima in Japan).
Yet chances of the two countries putting the issue behind them had once, albeit briefly, seemed so promising. On December 28, 2015, Japanese Foreign Minister Kishida Fumio and South Korean Foreign Minister Yun Byung-se struck a landmark deal in which Tokyo agreed to pay 1 billion yen (HK$67 million) to the surviving victims and issue a formal apology.
For its part, South Korea agreed to consider the matter resolved and to speak with relevant organisations about the removal of the comfort woman statue in front of the embassy. So when Japan paid the 1 billion yen and Prime Minister Shinzo Abe apologised, hopes of closure on the issue – and a new era for Japanese-Korean relations – did not seem so far-fetched.
Except Korea then decided that Abe's apology did not go far enough and therefore the matter was not resolved. Not only does the statue in front of the Seoul embassy remain standing, it now has a sister. In December 2016 – one year after that "landmark deal" – a replica of the statue was installed outside the Japanese consulate in Busan. That statue was briefly confiscated by police, as the group that installed it had done so without a permit, but it returned after a flood of protests from the public.
Tokyo asked for both statues to be removed, but Seoul replied that it had spoken to the civic groups involved and had no further responsibility. This led Tokyo to recall the diplomats and Woo Sang-ho, floor leader of the Minjoo Party of Korea, to suggest that, rather than remove the statues, Korea should return the 1 billion yen.
Since then, public opinion on each side of the debate has hardened, and what had seemed like a watershed moment now appears more like a stalemate.
The United States seems to have backed Seoul in the deadlock, with Secretary of State John Kerry on Thursday commending Korea for faithfully implementing its side of the 2015 agreement.