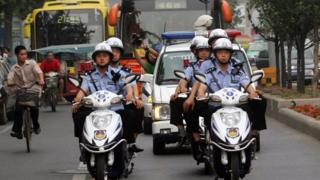 Police officers in the Chinese city of Xi'an have been sent to a five-star hotel to take lessons in how to serve the public with a smile.
The training was announced by the Chang'an district police force after local television ran a report on discourteous cops, Sanqin Daily reports. Twenty officers have been assigned to the luxury hotel as part of a three-month-long "style rectification" course, according to the force's Weibo account. It has also shared photos from the hotel, one of which shows uniformed police posing behind reception.
"Politeness is something all our officers should possess," says local police captain Li Huixian, adding that it's "little details" like smiling and saluting that the public appreciates.
Many Chinese social media users think the idea of training officers in a fancy hotel is "ridiculous". "The problem of poor service can't be resolved with just a smile," says one person on microblogging site Sina Weibo , while another thinks having a good attitude isn't something that can be learned. Others wonder if it's just a way of using up spare funds, with one person asking: "Have they not used up their annual budget? "
Next story: Russia region's 'no abortion day' to mark Bible story
Use #NewsfromElsewhere to stay up-to-date with our reports via Twitter.