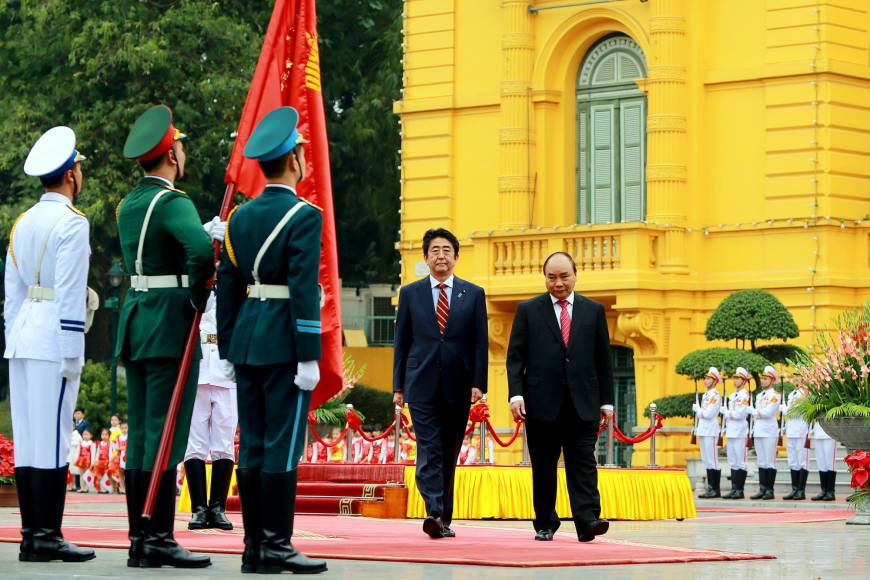 HANOI/BOGOR, INDONESIA – Prime Minister Shinzo Abe and his Vietnamese counterpart, Nguyen Xuan Phuc, met Monday in Hanoi to discuss a coordinated response to China's increasingly aggressive maritime moves amid uncertainty about incoming U. S. leader Donald Trump's commitment to the region's stability.
During the summit, Japan was to announce a fresh offer of patrol vessels to the Southeast Asian country, which is embroiled in a territorial row with China in the contested South China Sea, Japanese officials said.
The vessels would help strengthen Hanoi's maritime law enforcement capabilities as tensions simmer with Beijing over the strategic waterway.
Although Japan is not a claimant in the South China Sea disputes that involve China, Vietnam and four other governments, it remains concerned about China's growing military presence in the busy shipping lane and is keen to maintain a rules-based order at sea.
Tokyo meanwhile is involved in a dispute with Beijing over the Japanese-controlled Senkaku Islands in the East China Sea that are claimed by China.
Vietnam is Abe's last stop on a four-nation tour that also took him to the Philippines, Australia and Indonesia, which — along with Vietnam — have been key Asia-Pacific nations that Abe has sought to strengthen ties with amid China's rise and uncertainties over Trump's Asia policies.
Amid concerns about a shift to a protectionist U. S. trade policy under Trump, the leaders were likely to discuss promoting free trade, including the U. S.-led Trans-Pacific Partnership and the Regional Comprehensive Economic Partnership, of which both countries are members, the officials said.
RCEP is an Asia-Pacific mega-pact that — unlike the TPP — excludes the United States but includes China.
The outlook for the TPP is dim as Trump, who takes office Friday, has vowed to reject the agreement in its current form.
Nguyen Xuan Phuc is holding out hope that Trump will reconsider the TPP, noting that recent comments by officials who are set to take senior roles in Trump's Cabinet give him reason to be optimistic.
"Many of the newly appointed members of the new Cabinet are in favor of the TPP, so I think that Washington might reconsider its decision because it will also benefit the U. S.," he said.
Phuc, 62, is working with other Asia-Pacific leaders to keep momentum going on the 12-nation trade treaty.