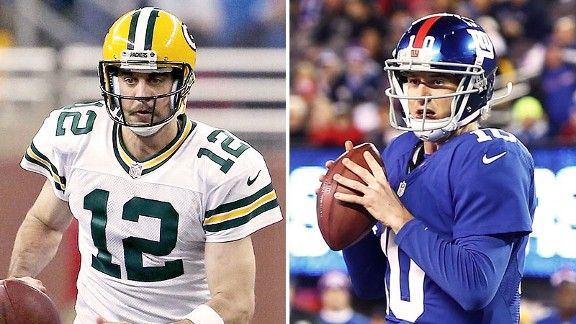 Giants reporter Jordan Ranaan and Packers reporter Rob Demovsky take an in-depth look at Sunday's wild-card game between the New York Giants and Green Bay Packers at Lambeau Field (4:40 p.m. ET, Fox).
New York Giants
11-5
2nd, NFC East
The Giants return to the playoffs for the first time in five years, and it seems only appropriate their road goes through Green Bay. Two of their past three playoff appearances have included victories at Lambeau Field on their way to Super Bowl triumphs.
Aside from quarterback Eli Manning , there aren't many players left from those teams (two from 2007 and six from 2011). This is a much different group of Giants, led by a stingy defense that allowed the second-fewest points in the league this season. The Giants are going to rely on that defense and hope Playoff Eli returns — after a bumpy regular season — for an extended postseason run. « Having a guy like Eli is exactly what you want, » wide receiver Victor Cruz said. « And exactly what you look for in a team that wants to make a deep run.  »
It begins Sunday against a Packers team they already lost to earlier this season in Green Bay.
Giants X factor
RB Paul Perkins. The rookie has increased his rushing total in each of the past six games. He even made his first career start in Week 17 against the Redskins, when he became the Giants' first 100-yard rusher of the season. If Perkins can give the Giants any sort of rushing attack (they had 54 yards rushing as a team in their first meeting with the Packers), it will help open passing lanes against a depleted secondary that can be exploited. And Packers all-world quarterback Aaron Rodgers will be kept off the field.
Why the Giants will win
Their defense plays at an extremely high level. They've held three of their past four opponents to 10 points or fewer, and two of those teams (Cowboys and Redskins) were top-10 offenses. So are the Packers. If the Giants keep Green Bay and Rodgers in check and under 20 points, Manning & Co. will leave Lambeau Field with a win. Even during the final three games of their six-game winning streak, Green Bay has given up 24 points or more. The Packers are an average team (5-5) when they don't score 30 points this season.
Why the Giants will lose
The Giants haven't scored more than 20 points in a game since late November. That won't get it done against a Green Bay offense that has topped 30 points in four straight games. If the Giants are unable to run the ball against a stout Packers run defense and Manning plays poorly with consistent pressure coming off the edges, it's going to be a long afternoon in Green Bay.
Giants prediction
Odell Beckham Jr . is a big-game player, and it will show in his first playoff game. Beckham saved the Giants' season with 211 yards and two touchdowns in the second half against the Baltimore Ravens, and he has more catches (33) and touchdowns (4) this season in the fourth quarter than any other quarter. He also scored the winning touchdown in the Giants' biggest game of the season last month against the Dallas Cowboys. Beckham will make enough big plays on Sunday at Lambeau Field to supplement a Giants defense that will limit Rodgers and the Packers just enough to escape with a dramatic victory.
Giants 24, Packers 23
Green Bay Packers
10-6
NFC North champs
The Packers indeed ran the table, as quarterback Aaron Rodgers suggested was possible, even though they had a 4-6 record in late November and were mired in a four-game losing streak.
They don't intend to let up now.
« The energy that this team has is unique, » Packers coach Mike McCarthy said. « That is not a concern at all. It's about as ambitious a group of men as I've ever had the opportunity to work with. That's been evident from day one on the journey. But at the end of the day, it's about winning this Sunday against the Giants.  »
History should have no bearing on Sunday's NFC wild-card game at Lambeau Field unless, of course, the ghost of playoffs past revisits Green Bay. The Giants have twice upset the Packers in the playoffs at Lambeau — the 2007 NFC Championship Game and in a 2011 NFC divisional-round game — both times with Eli Manning as New York's quarterback and with Mike McCarthy as Green Bay's coach. Manning is 2-0 in playoff games at Lambeau Field and has as many postseason wins there as Packers quarterback Aaron Rodgers (2-2).
Packers X factor
When the Giants came to Lambeau Field in Week 5, they probably didn't even know Geronimo Allison 's name. The undrafted rookie receiver was still on the Packers' practice squad. In his past two games, Allison has eight catches for 157 yards and a touchdown while playing for the injured Randall Cobb. Even if Cobb comes back this week from his left ankle injury, the Packers would be wise to keep Allison in their plans. At 6-foot-3, he's a matchup problem for shorter cornerbacks, and he has shown an ability beyond his years to grasp the Packers' complex offense and win the trust of Rodgers. « He's made plays consistently in practice over the last five or six weeks, which gives you the feeling that if he gets an opportunity or we need him to be in there, he's going to make a play, » Rodgers said. « And that's why he's been a big part of our success and I've gone to him in certain situations, because I've seen it in practice.  »
Why the Packers will win
Momentum, sixfold. The Packers' six-game winning streak can't be dismissed as a nonfactor come playoff time. Veteran pass-rusher Julius Peppers said: « Momentum is a real thing, and we have a little bit of it.  » A little? No one in the NFC went into the playoffs with a longer winning streak and no one has a quarterback who is as hot as Rodgers. He hasn't thrown an interception in his past 245 attempts — the longest streak of his career — and he has 15 touchdowns without an interception in the past six games.
Why the Packers will lose
The cornerback position is a mess; it has been all season, really. They finished the regular season ranked 31st — second to last — in the NFL in passing yards allowed per game (269.