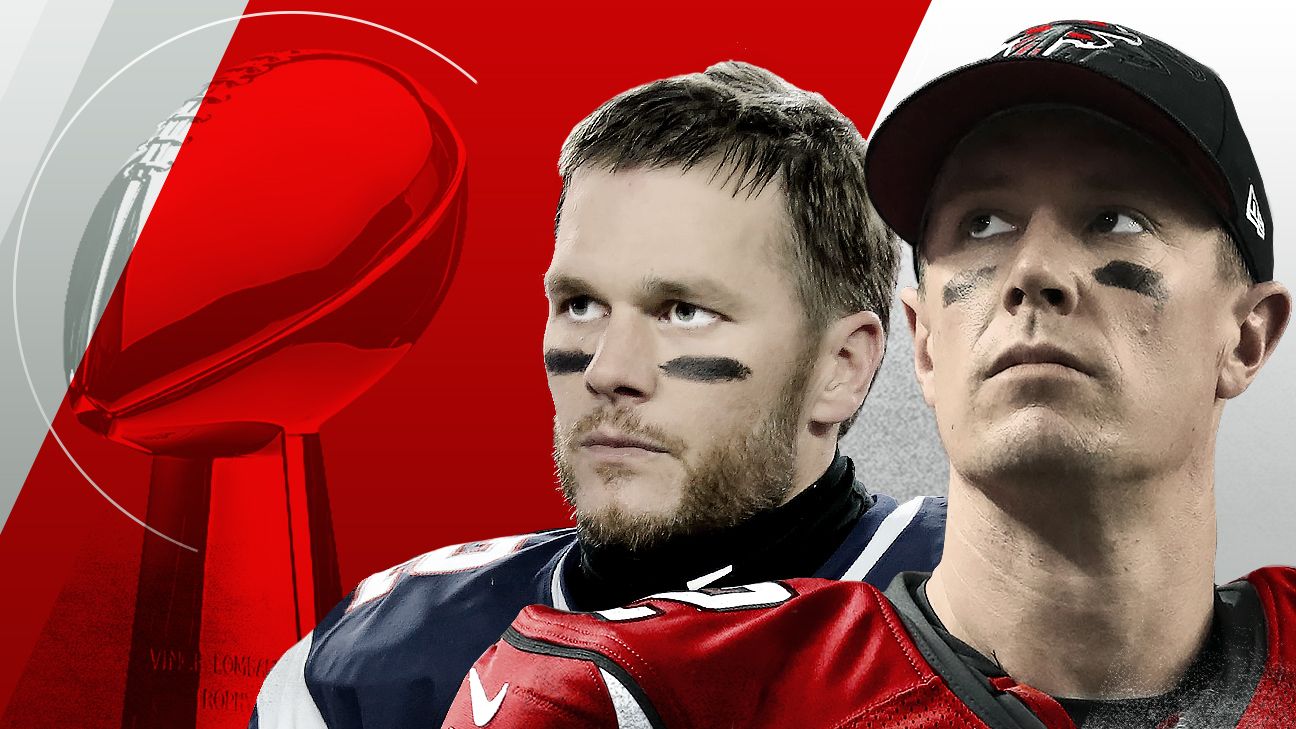 At the end of a locker room interview last weekend, Atlanta Falcons quarterback Matt Ryan was asked when he last won a football championship.
«Probably been since high school,» he said.
Indeed, William Penn Charter won the 2002 Inter-Ac league title in Ryan's final season there. But, he explained, the school is private and so it did not participate in the Pennsylvania state tournament.
That's the back story of one of the Super Bowl LI quarterbacks. Ryan, 31, has a chance to win his first true title after leading the Falcons to a 44-21 victory over the Green Bay Packers in the NFC Championship Game.
The other Super Bowl quarterback: His back story is a little easier to explain.
Tom.
Yup. Brady is again headed back to the big game — ho hum — after the New England Patriots ' 36-17 victory over the Pittsburgh Steelers in the AFC Championship Game.
Let's take a first look at the Super Bowl matchup everyone expected. Or well, a few. OK. Maybe no one.
Ryan might be one of the most credentialed quarterbacks in NFL history to make his first Super Bowl start. According to research by Elias Sports Bureau, he has thrown for more passing yards in his career (37,701) than any other quarterback making his first start in the title game.
He has defeated 29 of the NFL's 31 non-Falcons teams during the regular season or playoffs in his career. The Patriots are among the remaining two. He's 0-2 against them but did throw for what at the time was a career-high 421 yards during a 30-23 loss in 2013. (He has exceeded that total twice since then, most recently with a 503-yard game in Week 4 of this season.)
Tom Brady will extend his NFL record for Super Bowl starts by a quarterback to seven, and he'll have a chance to set the league record for victories by a quarterback if the Patriots win.
His current total of four titles ties him with Joe Montana and Terry Bradshaw. At 39, Brady will match Peyton Manning as the oldest quarterback to start a Super Bowl.
Incredibly, he's throwing the ball as well and efficiently as he ever has. His 384 yards Sunday against the Steelers was his career high for a playoff game.
Ryan and Brady were the top two quarterbacks in the NFL this season, by virtue of both Total QBR and passer rating. (Ryan was No. 1 in both.)
They were also the top two in yards per attempts, dropbacks and completions. In other words, their offenses had the NFL's two most explosive passing games — by scaled yardage totals — when they were on the field.
Ryan's was exceptionally high at 9.26 yards per attempt. Brady was more than one yard lower at 8.23 but still nearly a quarter-yard higher than the next quarterback ( Dak Prescott , 7.99). The league average was 7.24 yards per attempt.
Ryan is the presumptive regular-season MVP, an award Brady would have challenged him for had he played a full season. (He was suspended for the first four games of the season, a storyline you might or might not hear about during the next two weeks.)
This category is normally reserved for a secret weapon of sorts. But both quarterbacks have demonstrated the value of indiscriminate targeting.
In the regular season, Ryan threw more passes toward receiver Julio Jones (127) than any of his other teammates, of course. But he also set an NFL record by throwing touchdown passes to 13 different teammates.
Brady, meanwhile, targeted Julian Edelman a team-high 127 times during the regular season.
But lest you be lulled to sleep by that connection, Brady sent an important warning Sunday. He threw 12 passes to receiver Chris Hogan — nearly a third of the total for the entire regular season — for 180 yards and two touchdowns.
Brady has lost a Super Bowl to only one quarterback; Eli Manning , who got him twice. In the other four games, he defeated: Kurt Warner, Jake Delhomme, Donovan McNabb and Russell Wilson.
Where does Ryan fit on that list? Let's put it this way: For the first time since Super Bowl XXXVI, when he matched up with Warner, Brady is not the demonstrably better quarterback. Ryan has been every bit as good as Brady has this season, and his team's offense has been more explosive.
This will be the best Super Bowl matchup of quarterbacks in at least six years, when Aaron Rodgers and Ben Roethlisberger matched up in Super Bowl XLV. The NFL is a quarterback's league and in this case, at least, it is reflected in the Super Bowl participants.