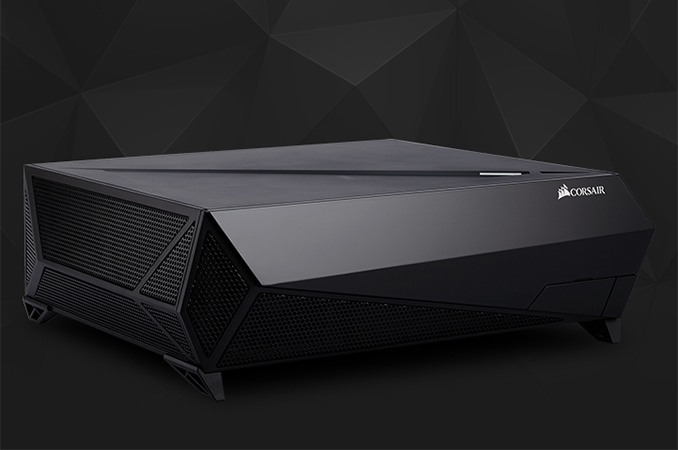 Corsair introduced its new Bulldog 2.0 small form-factor HTPC console-like barebones kit at CES. The new Bulldog 2.0 received a new motherboard based on the Intel Z270 PCH with improved features, as well as a new CPU liquid cooling system that is said to be quieter compared to the predecessor. At the same time, the kit retained its visual design and a relatively moderate price point.
Corsair's Bulldog case blends enthusiast-class performance and features with a living room aesthetics, which is a rather rare combination. The Bulldog chassis can accommodate a mini-ITX motherboard, a full-height graphics card (which is not longer than 300 mm and is not thicker than 90 mm), two liquid cooling systems, a 3.5" HDD, up to three 2.5" storage devices, multiple fans as well as an SFX power supply. At CES Corsair demonstrated its new Bulldog 2.0 barebones kit featuring MSI's Z270I Gaming Pro Carbon AC motherboard, its own new Hydro H6 SF low-profile cooler as well as the SF600 PSU.
Since the Bulldog 2.0 uses almost the same chassis as the initial product , the key differentiators of the new barebones kit is the mainboard and the LCS.