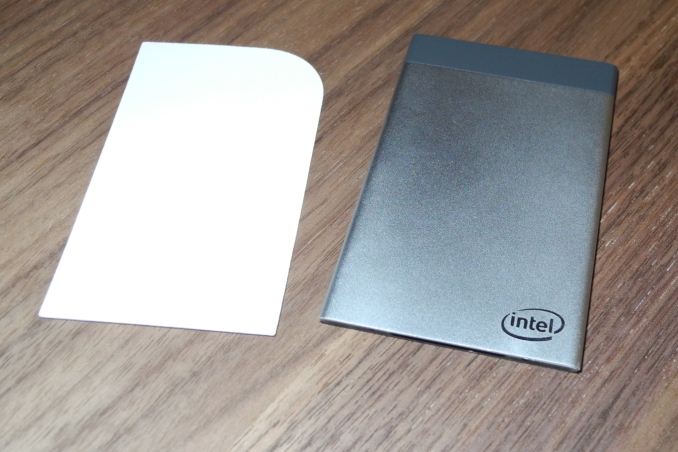 At CES 2017, Intel introduced a new form-factor for computing platforms in order to enable easy development, configuration, maintenance, repair and upgrade of various devices. Intel's Compute Card is as small as a credit card, but, packs everything needed for computing, including the CPU, DRAM, storage, communications and I/O. The first cards are set to be introduced in mid-2017.
Computing has become so ubiquitous nowadays that almost every more or less sophisticated piece of hardware has a microprocessor inside. Many such devices are designed to operate for years, but, since computer chips inside them get outdated, it is almost impossible to upgrade their functionality (e.g., add new security capabilities, speed up processing, etc.) without replacing the whole unit, or a significant part of it. Alternatively, if a CPU or a memory IC fails, repair of such a device may cost a lot in terms of money and effort. This translates to downtime and lost revenue. Such things happen because of various reasons, but the main two are proprietary platforms with tight integration and no upgrade path, or complex architectures that do not allow for a quick replacement of faulty components. The list of such devices includes everything from business PCs to point-of-sale kiosks and from smart TVs to commercial equipment.
The Intel Compute Card has been designed to be a universal computing platform for different kinds of devices, including those that do not exist yet. The ultimate goal is to simplify the way companies develop equipment, use, maintain, repair, and upgrade it. Creators of actual devices have to design a standard Intel Compute Card slot into their product and then choose an Intel Compute Card that meets their requirements in terms of feature-set and price. For example, PC makers could create systems in all-in-one or clamshell form-factors and then use Compute Cards instead of motherboards. For corporate customers that need to provide a lot of flexibility (and, perhaps, solve some security concerns too) – every employee has a card and can switch between PCs.