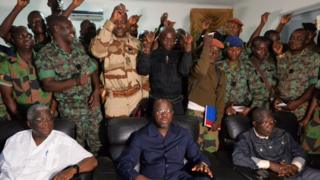 Mutinous soldiers in Ivory Coast have released the country's defence minister after detaining him for two hours in a standoff over pay.
Alain Richard Donwahi was held in the city of Bouake by troops who rejected the terms of a deal announced by President Alassane Ouattara.
Mr Ouattara said he had taken into account demands over pay and conditions and urged troops to return to barracks.
But it remained unclear if the mutiny was over.
The mutiny began in Bouake, the country's second largest city, on Friday and spread to the commercial capital, Abidjan, where soldiers took over the army headquarters.
Following talks between Mr Donwahi and the mutineers, Mr Ouattara announced the deal in a televised address.
"I confirm that I have agreed to take into account the demands of the soldiers over bonuses and better working conditions," he said, without giving details.
"I would like to say that this manner of making demands is not appropriate. It tarnishes the image of our country after all our efforts to revive the economy. "
Despite the announcement, some of the mutineers opened fire, trapping Mr Donwahi and dozens others in a local official's home. They were only allowed to leave several hours later.
Earlier, shooting was heard at the military base in Akouedo, on the eastern edge of Abidjan, which is home to parachute commandos who are considered loyal to Mr Ouattara.
Similar protests were also reported in the cities of Man, Daloa, Daoukro, Odienne and Korhogo.
The BBC's Alex Duval Smith in Abidjan says the mutiny has brought back memories of Ivory Coast's 10-year civil war, which ended in 2011.
Some of the mutineers were thought to be former rebels who joined the army after the conflict.
The rebels swept into Abidjan from Bouake in 2011, helping Mr Ouattara take power after his predecessor Laurent Gbagbo – now on trial at the International Criminal Court – refused to accept defeat in elections the previous year.