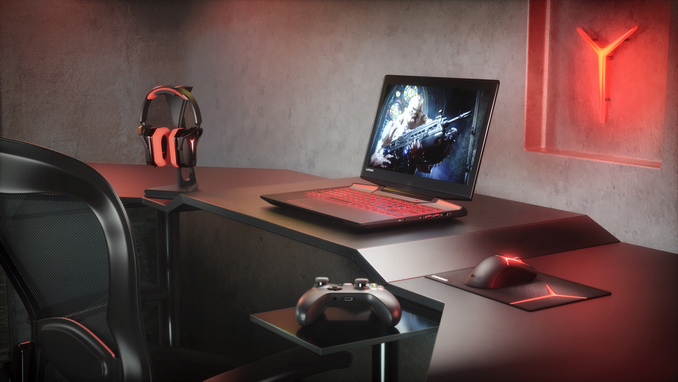 While the PC market has been contracting somewhat in recent years, there is still one line where buyers need more and more performance, and that is gaming. Even looking at just 1920×1080 as a resolution, even as recently as last year's GTX 980M would not always run games at that resolution at a solid 60 frames per second.
With the launch of NVIDIA's Pascal for notebooks, that has changed, and Lenovo is announcing today a new sub-brand dedicated to gaming. Previously, their gaming laptops were under their Ideapad lineup, which is the same as most of their consumer lineup, but with new branding of Legion, Lenovo is looking to move into this lucrative market. With a true gaming brand, they want to have the same community engagement that other companies have created around their own gaming brand, and it's a smart idea.
Lenovo Legion Y720
To launch the Legion brand, Lenovo is announcing two new laptops in the Lenovo Legion Y520 and Y720. This is certainly not Lenovo's first foray into gaming laptops, and the new models are a spiritual successor to laptops like the IdeaPad Y700 that we reviewed last year. The Y700 had a good design, but a sub-par display and a cramped display, and it's interesting to see how quickly Lenovo has at least addressed the keyboard – the display may be better, but it will have to wait for proper testing to see.
Lenovo Legion Y720
Lenovo has taken a very interesting approach to fit a full keyboard plus number pad into the new Legion laptops. Where most laptops, including the Y700 from last year, end up compressing the keys into too small a space, Lenovo has shifted the number pad up, creating a nice spot for the dedicated full sized arrow keys.