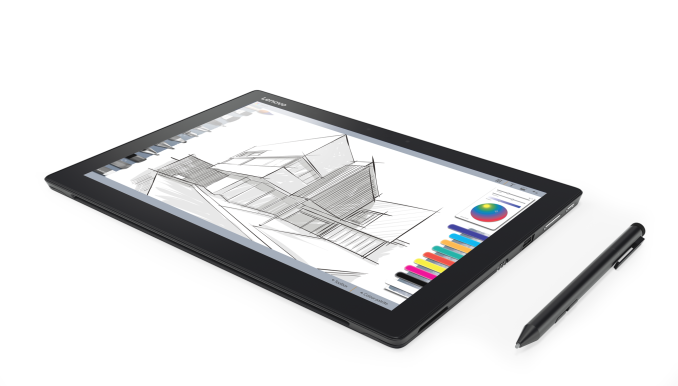 Lenovo has already announced updates to many of their business focused ThinkPad lineup, but today they are also announcing a successor to the MIIX 700 with the MIIX 720. The new model offers quite a few nice changes, but also a price bump over the predecessor.
Of course, as a new product launching in 2017, the MIIX 720 upgrades the CPU to Kaby Lake, but unlike the Core m7 version in the MIIX 700, the new model appears to feature 15-Watt processors. Lenovo doesn't list the exact CPU models available, but they do list In the HD 620 graphics, rather than the HD 615 which would be featured on the Y series, so expect the MIIX 720 to offer up to a Core i7-7500U CPU, assuming the graphics aren't a typo. Despite the higher powered CPU, the device dimensions have not changed, nor has the weight, with the MIIX 720 keeping the same 292x210x8.9mm dimensions and 780 gram weight (11.5×8.27×0.35" and 1.72 lbs). This means that they've added active cooling, which is a disappointment to some, but more performance, which should be pleasing to most.
The extra performance will be necessary to drive the higher resolution display, with the MIIX 720 offering a 12-inch 2880×1920 3:2 panel, which is an impressive 288 pixels per inch, which is much higher than the 214 pixels per inch of its predecessor, and even a bit higher than the 267 pixels per inch of the Microsoft Surface Pro 4.