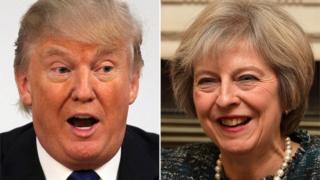 Theresa May is to visit US President-elect Donald Trump in the spring, Downing Street has said.
In December the PM's joint chiefs of staff, Nick Timothy and Fiona Hill, travelled to the US to build links with the incoming president's team.
A source said Mrs May "looks forward to visiting the new president in the spring".
The meeting is expected to take place at the White House and could be as early as next month, it is understood.
The December trip by Mrs May's closest aides was part of efforts to build a relationship with Mr Trump ahead of his inauguration on 20 January.
The president-elect first invited the prime minister to visit in a phone-call shortly after his election victory in November.
It had been expected that she would visit Washington in the early months of 2017.