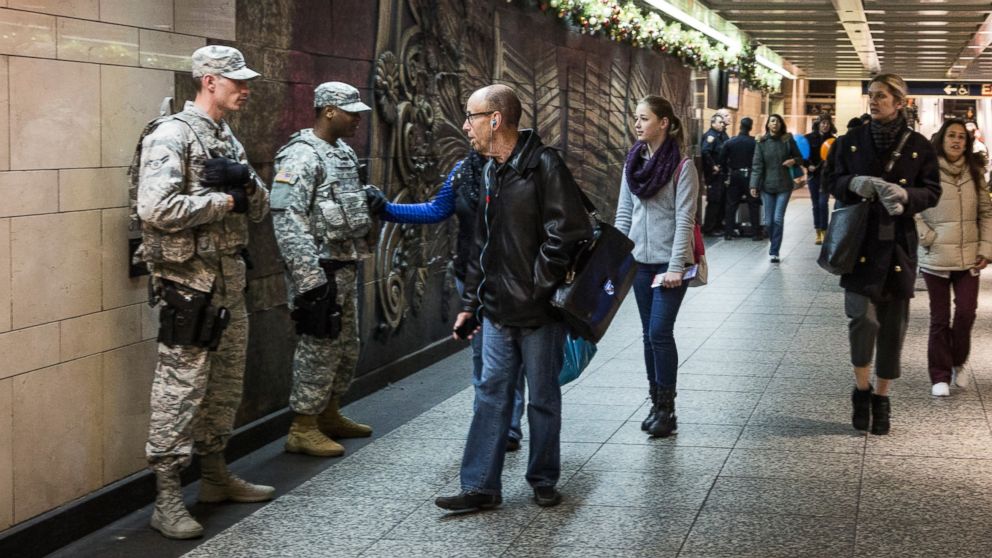 They have become a common sight at many U. S. mass transit hubs since the terrorist attacks on Sept. 11, 2001 — armed officers, such as National Guard members in camouflage and with weapons visible.
Now in the wake of Friday's mass shooting at a Fort Lauderdale airport that left five people dead and multiple others injured, a national security expert says a consistent, visible presence of armed officers is needed in public areas of the nation's airports.
John Cohen, a former counterterrorism coordinator at the U. S. Department of Homeland Security and an ABC News contributor, said the Transportation Security Administration , formed in the wake of 9/11, has been focused for the most part on preventing planes from getting hijacked and explosives from being taken onto flights.
These duties are critical, but the shooting in a baggage claim area at Fort Lauderdale-Hollywood International Airport and a shooting incident at Los Angeles International Airport in 2013 that left a TSA officer dead and others injured show the need for a broader approach, Cohen said.
"We need to finally think differently about aviation security," Cohen said. In the U. S. and around the world, "we're facing a growing number of mass casualty attacks from individuals who operate independently" of any organization, "and those people are difficult to detect and stop prior to an attack," he said.
A consistent presence of specially trained, armed officers in public areas of airports such as baggage claim areas and ticket counters could help in two ways, Cohen said.
"It could serve not only as a deterrent but also speed up response times should a situation arise such as the one that occurred in Fort Lauderdale," he said.
Authorities have not ruled out the possibility that the Fort Lauderdale shooting was tied to terrorism. But they said Saturday that at this point it appears that suspected gunman Esteban Santiago was acting alone.
Cohen said there are challenges to changing security in the public areas of airports.
The TSA has primary responsibility for aviation security from a federal perspective, he said. But law enforcement and security in public areas of an airport — the areas open to people who are not ticketed passengers and who have not passed through TSA checkpoints — are traditionally the responsibility of the local airport authority and local police, Cohen said.
Federal transportation security officials have been hesitant to direct local authorities on how to operate the areas of airports not under the TSA's purview, but local agencies and airport authorities could take the lead on this, he said.
"Local airport authorities should make it a priority to have uniformed law enforcement officers patrolling these nonsecured areas. These officers should be trained to recognize the behaviors of an individual who may be planning or preparing to carry out an attack and should also be trained to respond to a mass casualty attacker or active shooter," he said.
"This is a normal thing for police departments to do," and officers in most local police agencies are already receiving active-shooter training for responding to incidents such as school shootings, he said.
In the Fort Lauderdale shooting, the assailant stopped only after running out of bullets, according to a witness who spoke to "Good Morning America" today. Cohen said security needs to be in place at airports to stop active-shooter or other similar incidents.
Federal officials could also help by communicating or sharing their security standards with local airport authorities and considering making it mandatory that trained, armed officers patrol the areas of airports not overseen by the TSA, Cohen said.
"If the TSA is not already considering making its security standards mandatory for any public areas of an airport, it should do so," Cohen said.