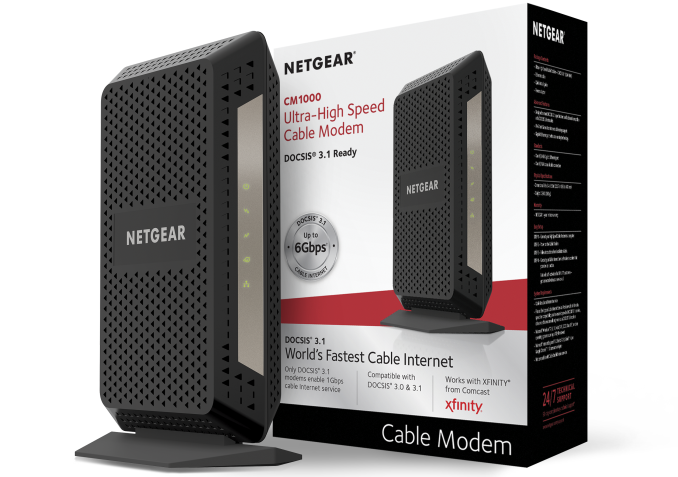 Netgear became one of the first vendors to bring a DOCSIS 3.1 cable modem to the market last month with the availability of the CM1000. It is based on the Broadcom BCM3390 cable modem SoC announced at CES 2015.
DOCSIS 3.1 is one of the most awaited developments in the cable modem industry, allowing ISPs to provide consumers with gigabit and higher speeds without altering existing infrastructure. The specifications support speeds up to 10 Gbps, but, the first generation chipsets like the BCM3390 support only speeds up to 6 Gbps. Compared to the 6- and 8 MHz-wide channels in DOCSIS 3.0, DOCSIS 3.1 uses 20-50 kHz-wide OFDM subcarriers. These can be bonded together in 200 MHz-wide blocks. Note that DOCSIS 3.1 is still not symmetric – while download speeds can go as high as 10 Gbps, upstream rates have a 1 Gbps ceiling.
The CM1000 supports 32 downstream and 8 upstream SC-QAM channels for theoretical downlink speeds of 6 Gbps. Its Ethernet port is still 1 Gbps, and doesn't take full advantage of the capabilities of the BCM3390.
This CableLabs-certified modem is supported by Xfinity, Cox and Time Warner in the US market. It is also backwards-compatible with existing DOCSIS 3.0 networks. Customer experience with the modem is heavily reliant on the equipment being used by the ISP in the area, with many early adopters reporting activation issues. The firmware on the latest units supposedly fixes these problems.