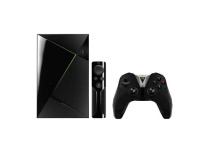 Nvidia's new Shield TV console boasts the latest Android release, the Tegra X1 SoC, and microphones in the controllers for voice recognition. Nvidia has officially unveiled a new revision of its Android-powered Shield console, now supporting Ultra HD and high dynamic range (HDR) content, alongside the previously leaked GeForce Now game streaming service.
Designed to replace the existing Shield console in the market, Nvidia's new design is distinguished by the inclusion of a 'TV' suffix – a nod, it seems, to the company's desire to push the device as a high-end media streamer as well as a games console. Available, as before, in Shield TV and Shield TV Pro variants, both devices include the same central specs: Its heart is an Nvidia Tegra X1 system-on-chip processor linked to 3GB of RAM, while an HDMI 2.0b port provides connectivity for Ultra HD resolution output at 60 frames per second and with high dynamic range (HDR) support.
Both models also include the same network support – dual-band 802.