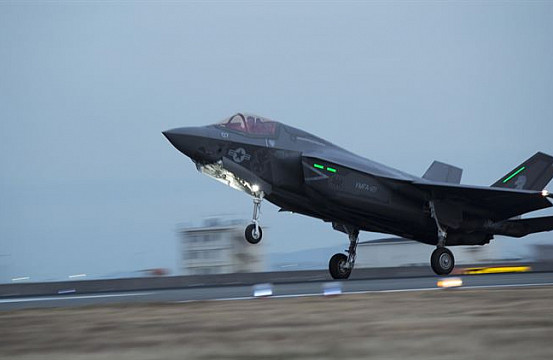 The United States has dispatched its first F-35B squadron to Japan. According to the United States Marine Corps, the first F-35B aircraft of Marine Fighter Attack Squadron 121 arrived at an airbase in Iwakuni in Yamaguchi Prefecture on January 18.
This constitutes the F-35B's first overseas mission.
The F35B is the U. S. Marine Corps variant of the supersonic fifth-generation F-35B Lightning II Joint Strike Fighter, capable of vertical or short takeoffs and vertical landings without requiring a catapult launcher. The F-35B was specifically developed to replace the Marine Corps' F/A-18 Hornet, AV-8B Harrier and EA- 6B Prowler aircraft.
"The unique combination of stealth, cutting-edge radar and sensor technology, and electronic warfare systems bring all of the access and lethality capabilities of a fifth-generation fighter, a modern bomber, and an adverse-weather, all-threat environment air support platform," the U. S. Marine Corps noted in a January 12 statement.