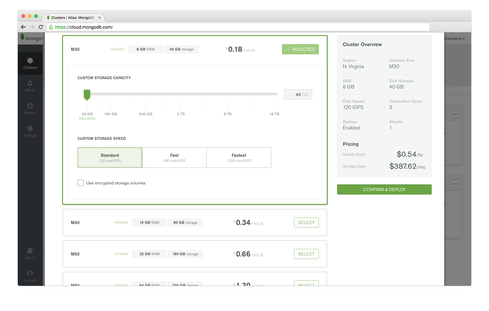 MongoDB is introducing a new elastic database-as-a-service cloud offering for its open source NoSQL database, available initially on Amazon Web Services (AWS), with future integration planned for Google Public Cloud and Microsoft Azure. Separately, the company is also announcing a new MongoDB connector for big data technology Apache Spark.
Called MongoDB Atlas, this on-demand cloud service will provide an outsourced and managed version of the NoSQL database. It's aimed at a broad market, from small players to MongoDB's Fortune 100 customers. Both the MongoDB-as-a-service and Spark connector announcements coincide with the company's MongoDB World event in New York this week.
MongoDB Strategy and Product Marketing VP Kelly Stirman told InformationWeek in an interview that most of MongoDB is already available in the public cloud. Organizations can deploy it there themselves with an IaaS provider or on-premises and use MongoDB tools for managing the implementation. Otherwise they can use one of a few existing providers of MongoDB-as-a-service.
[What are the forces driving today's database market? Read Gartner Magic Quadrant: Open Source, Cloud Disrupt Database Market .]
The new MongoDB Atlas service provides a simpler way for organizations to consume MongoDB, because all of the back-end work is already done. Customers don't need to touch hardware provisioning, failure recovery, software patching, upgrades, configurations, or backups. They are billed by MongoDB on an hourly basis for how much they use.
"We offload all that work from your plate and let you focus on the things that let you be successful," Stirman said.
That scenario will broaden the appeal of the MongoDB platform beyond its enterprise-sized customer base, according to Stirman.