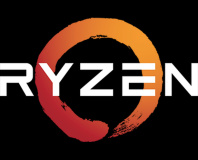 AMD has promised that all Ryzen processors will feature an unlocked multiplier, but quietly ensured that those on 'essential' motherboard chipsets won't be able to make use of the feature. AMD has promised that every single one of its Ryzen processors will feature an unlocked multiplier for overclocking purposes, but quietly admitted that only selected motherboard chipsets will actually support the feature.
As part of its Ryzen unveiling at the Consumer Electronics Show processor underdog AMD impressed the crowds by promising that its upcoming Ryzen chips – the name given to the first family of processors built around the new Zen microarchitecture – will feature blanket support for multiplier-based overclocking. The company's inference was clear: buy any AMD chip and get free performance boosts, while rival Intel will charge you extra for the same functionality in its enthusiast family.
The announcement was followed by a list of chipset models that will be available for Ryzen motherboards, and it's here that the story gets murky: AMD is keeping the functionality away from its entry-level parts.