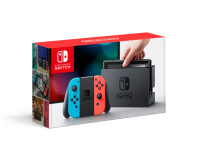 Nintendo's Switch convertible console is to hit the UK on March 3rd, the company has confirmed, priced at £279.99 with a single pair of Joy-Con controllers. Nintendo has officially unveiled UK pricing and availability for its Tegra-powered portable games console, the Switch, which will cost you £279.99 and drop into your hands on March 3rd.
Previously known as the Nintendo NX before an October 2016 unveiling which gave it the name Nintendo Switch, the hybrid console is based around Nvidia's Tegra X1 system-on-chip processor running behind a 6.2″ 720p touch-screen display and with 32GB of storage. When used on-the-go, the Switch acts as a 720p battery-powered hand-held running at reduced clock speeds; when inserted into the toaster-like desktop docking station it switches to a 1080p full-speed microconsole – hence the name Nintendo Switch.
A key feature of the Switch is its Joy-Con controllers, which slide onto the side of the console for single-unit hand-held gaming or attach to a battery pack when the console is in its dock and can also be used as Wii-style motion-sensors.