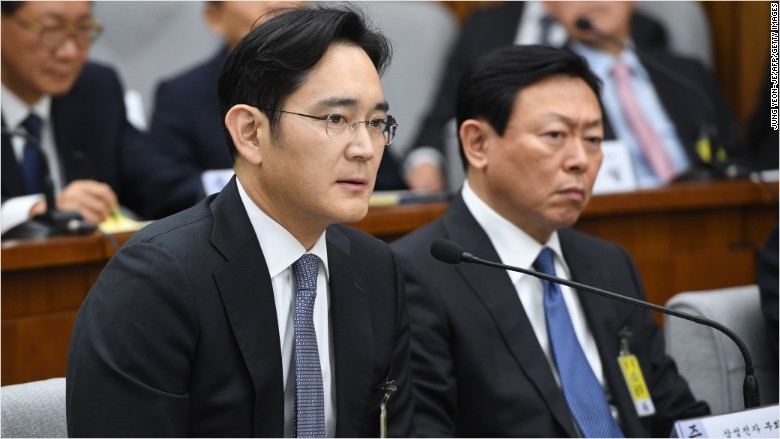 The move against Samsung Electronics Vice Chairman Lee Jae-yong on Monday is part of an investigation into a massive political corruption scandal that has shaken South Korea's political and business elites.
Lee is now set to appear Wednesday before a judge who will decide whether the arrest warrant is valid. If it is, the man tapped to head the country's biggest conglomerate will be taken into detention.
The case involving Lee centers on a contentious merger of two Samsung affiliates in 2015 that helped him strengthen his control over Samsung Electronics ( SSNLF ) , a key part of his family's sprawling business empire.
Related: Samsung heir is questioned as suspect in corruption probe
Prosecutors accuse Lee and Samsung of providing 43 billion won ($36.3 million) to organizations linked to a confidante of President Park Geun-hye in return for government backing for the merger.
During a public grilling last month, Lee said he was unaware of Samsung's payments to the organizations when they were made.
The arrest warrant for Lee came on the same day that National Pension Service chief Moon Hyung-pyo was indicted on charges of perjury and abuse of power. Moon is accused of pressuring the pension fund, a major shareholder in one of the Samsung affiliates, to support the merger when he was minister of health and welfare.
Samsung on Monday disputes the allegations against Lee , saying in a statement Monday that it "did not make contributions in order to receive favors. "
Related: South Korea presidential scandal: What you need to know
The National Pension Service declined to comment on Moon's indictment.
The charges are the latest developments in the far-reaching scandal that has driven thousands of South Korean protestors to the streets and prompted lawmakers to vote to impeach Park. Other top South Korean companies are also under investigation.
Samsung Electronics' stock dropped 2.1% after the news of the arrest warrant. The shares are down around 5.5% since Thursday, when Lee was named as a suspect in the corruption scandal and taken in for questioning.
Samsung's deepening links to the corruption investigation have further damaged the company's image after the humiliating fiasco over its fire-prone Galaxy Note 7 smartphone last year. Results of an investigation into what caused the smartphones to catch fire are expected to be announced this month.
Related: Samsung faces rare public grilling over political scandal
This isn't the first time a senior member of the family that controls Samsung has faced criminal charges.
Lee's father, Samsung Group Chairman Lee Kun-hee, was found guilty of tax evasion in 2008 and sentenced to three years in prison, but that sentence was suspended. He was ordered to pay 110 billion won ($93 million) and didn't spend any time behind bars. He was found not guilty of a charge of breach of trust over accusations he illegally attempted to transfer ownership of a Samsung affiliate to his son.
Lee Kun-hee suffered a heart attack in 2014, which accelerated the conglomerate's planning for who will succeed him.
— Stella Kim and Jethro Mullen contributed to this report.
Correction: An earlier version of this story misstated the status of the arrest warrant for Lee Jae-yong.