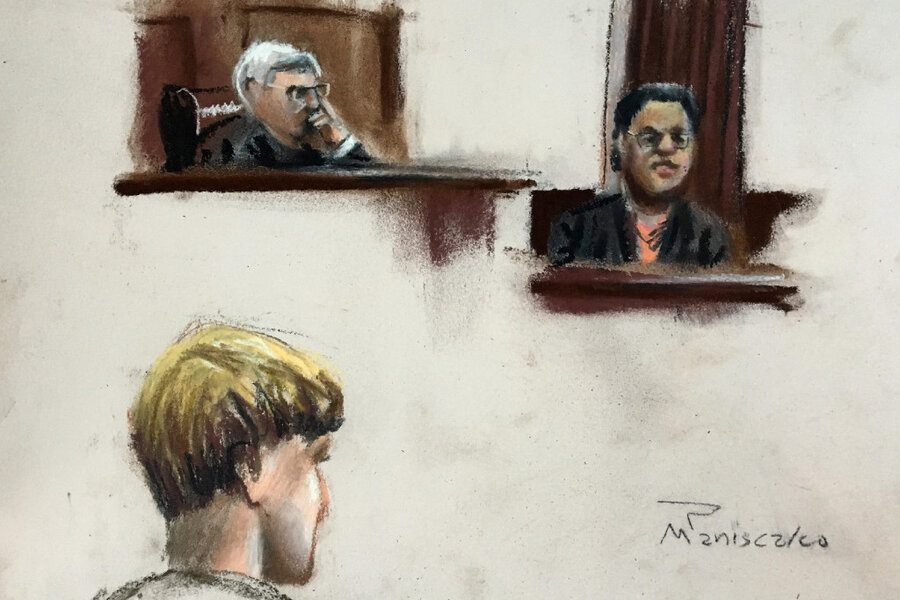 January 5, 2017
CHARLESTON, S. C. — One by one, friends and family members walked up to the witness stand and testified about the nine black church members gunned down during a Bible study in Charleston on June 17, 2015. They described personalities, future plans and final conversations.
The testimony came during the sentencing phase of Dylann Roof's death penalty trial. The same jury that convicted the 22-year-old white man of hate crimes and other charges will decide whether to sentence him to life in prison or death. Here are highlights from the testimony Wednesday and Thursday.
A PREMONITION AND A DREAM
Myra Thompson seemed to know something would happen to her. A month before the shootings, daughter Denise Quarles says her mother talked about being confident she'd raised her children with strong morals that would serve them after her death. She also made it clear what she wanted, and didn't want, for her funeral: Use red nail polish and don't let the funeral home dye her hair gray or cake-on the makeup.
On the night of the shooting, Quarles said she woke suddenly after a dream about watching her mother drown and hearing a voice saying her mother was gone. Quarles picked up her phone, checked Facebook and learned of the shooting — and her mother's likely fate.
«I just feel like that was God who spoke to me,» she said. «That's why I know where my mom is. She's in heaven, with everybody else. She's fine. »
'DADDY'S DEAD?'
Jennifer Pinckney huddled under a desk with her 6-year-old daughter, her hand clasped over the girl's mouth to keep her quiet, as Roof opened fire.
Not knowing for certain if the danger had passed, Pinckney dialed 911 and breathlessly told an operator she had heard shots inside the church.
«I think there's been a shooting. I'm in the closet, under a desk,» Pinckney told the operator. «Please hurry. »
On the call, Pinckney tries to comfort her daughter Malana, who had been watching cartoons in her father's office as he participated in Bible study.
«Daddy's dead? » Malana says.
«No, baby, no,» the mother says. But at that moment, Pinckney said she knew her husband, church pastor Clementa Pinckney, had been killed.
A FUTURE IN THE CHURCH
The Rev. Anthony Thompson said his wife, Myra, was a dedicated person of faith who did her best to enjoy life.
Thompson cried as he described a conversation with his wife about their future plans to move and pursue studies and careers in the church.
«She was my world, and she was gone,» he said. «I'm just glad to know she's somewhere… where somebody can take care of her better than I ever could. »
DEVOTED FRIEND
Sharonda Coleman-Singleton was a high school track coach. But the ministry was her calling. She was able to relate to a room full of people like they were talking one-on-one.
«She wanted to teach you,» said friend Rita Whidbee.
Coleman-Singleton's daughter told jurors her mother would pray over her children before they went to sleep.
«Before I went to her with all my problems, and now I go to God,» Cam'Ryne Singleton said.
AN ANGEL
Bethane Middleton described her sister, Depayne Middleton-Doctor, 49, as a tender woman who took care of her. She had a beautiful voice.
«I consider her a borrowed angel,» Middleton said.
THE OPEN ROAD
Daniel «Dapper Dan» Simmons, 74, was so nicknamed for his shiny shoes and fine hats. His son, Dan Simmons Jr., said his father adored his grandchildren and spoke with them often, always willing to travel wherever was necessary to spend time with people he loved.
One of the first black drivers hired by Greyhound, Simmons loved to drive, up until the day of his death, his son said.
«He just loved everything about life,» Simmons said.
OTHER VICTIMS
Cynthia Hurd, 54, was a librarian. Ethel Lance, 70, was the church sexton who kept the bathrooms and building immaculately clean.
Susie Jackson, 87, sang in the church choir and Tywanza Sanders, 26, was Jackson's nephew and an aspiring poet.